Yes, it is safe to go to Turkey for a hair transplant depends on the clinic you choose, the surgeon's experience, and your own health.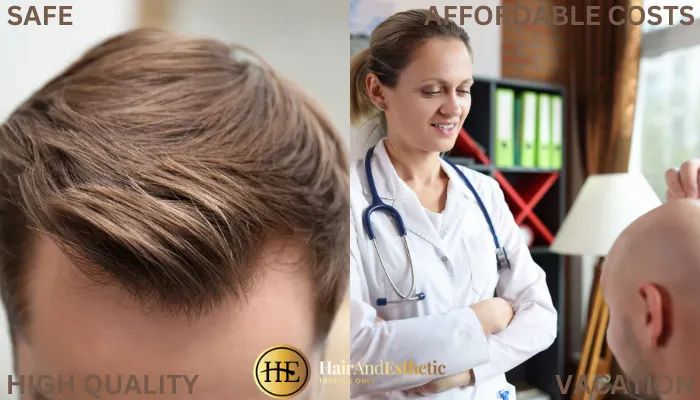 Hair loss can be an unpleasant experience for many people, prompting them to look into various options, including hair transplantation. Turkey has recently earned a reputation as a popular location for people seeking hair transplant surgeries. This essay will investigate the safety of having a hair transplant in Turkey, as well as the important aspects that make it a viable option.
Turkey is a popular hair transplant destination due to its inexpensive costs and large number of experienced specialists. Here are some pointers to consider while selecting a hair transplant facility in Turkey:
Look for a Joint Commission International (JCI)-accredited clinic. This accreditation confirms that the clinic satisfies high quality and safety criteria.
Check to see if the surgeon is qualified and experienced. Inquire about their credentials as well as before-and-after images of their work.
Before the procedure, obtain a written consultation and treatment plan. This can help you understand the procedure's risks and benefits, as well as the predicted outcomes.
Make certain to inquire about the clinic's follow-up care processes.
Why is Turkey so cheap for hair transplant?
There are a few reasons why hair transplant procedures in Turkey are significantly more affordable than in other nations.
Decrease in the cost of living
Because of Turkey's lower cost of living compared to the cost of living in many other industrialised countries, the cost of operating a hair transplant facility in Turkey is also lower. Patients will benefit from the resulting reduction in cost.
Significant number of operations
Clinics in Turkey are able to undertake a high volume of hair transplant surgeries because the country is a popular destination for hair transplants. This enables companies to distribute the expense of fixed costs, such as overhead and equipment, among a greater number of patients, so lowering the overall cost.
Monetary aid from the government
In an effort to encourage foreign patients to seek medical treatment in Turkey, the government provides financial assistance for hair transplant procedures. Patients benefit from even more affordable costs as a result of this development.
It is essential to keep in mind that not every hair transplant clinic in Turkey operates on the same level of excellence. It's possible that some clinics will employ methods or materials of poorer quality in order to cut costs. It is essential to perform adequate research and pick a medical facility that has a solid reputation and a proven track record of success.
Should I travel for hair transplant?
Yes, you should travel for hair transplant. Here are some reasons why you should travel for a hair transplant:
High Quality
Variety of hair trasplantation techniques
Vacation
Personalization
How long should you stay in Turkey after hair transplant?
Accommodations for just two days will be sufficient for the hair transplant procedure. After the procedure, you will be able to resume your normal activities the next day, including going sightseeing or shopping in Istanbul.
Can hair transplants go wrong?
No, hair transplants can not go wrong. However, there is a little danger involved, as there is with any surgery.
What is the success rate of hair transplant in Turkey?
Success rate of hair transplant in Turkey is roughly 90-95%.
How painful is a hair transplant in Turkey?
The patient may experience minor discomfort throughout this process, but it is not considered major pain.Hair transplant operations are frequently performed under local anaesthesia in Turkey. Using very thin needles, local anaesthesia is delivered beneath the patient's skin.
What are the worst results of hair transplant?
Improper post-operative care might result in poor healing, which can lead to an uneven hairline or infection. Inadequately performed hair transplant treatments might result in visible scarring that is difficult to conceal.
Is Turkey better than US for hair transplant?
Yes, Turkey is better than US for hair transplant. While both nations provide comparable treatments, Turkey's reduced cost and modern techniques, such as Sapphire FUE, have made it a more appealing alternative for people looking for affordable and high-quality hair transplants.
How much is 5000 hair grafts?
| | | |
| --- | --- | --- |
| Country | Average cost per graft | Cost for 5000 hair grafts |
| Turkey | £1-£2 | £5000-£10000 |
| Europe | £2-£5 | £10000-£25000 |
How much does 3000 hair grafts cost?
| | | |
| --- | --- | --- |
| Country | Average cost per graft | Cost for 3000 hair grafts |
| Turkey | £1-£2 | £3000-£6000 |
| Europe | £2-£5 | £6000-£15000 |
How much is 7000 grafts hair transplant in Turkey?
| | | |
| --- | --- | --- |
| Country | Average cost per graft | Cost for 5000 hair grafts |
| Turkey | £1-£2 | £7000-£14000 |
| Europe | £2-£5 | £14000-£35000 |